Customer appreciation strategies – our top 10
Statistically, 68% of people leave business because of perceived indifference. How to make sure this is not your case?
To stay competitive, you must be sensitive to your customers' needs and expectations. Loosing money is not a way to go, especially if you consider that 80% of your future revenue will come from 20% of your existing customers (Gartner).
Hopefully, there are many ways to show your customers how much you care. Take a look at some of the types of thank you marketing you can do.

Thank you card

Everyone likes to be appreciated. Writing and sending a good old fashioned thank you card easily does the trick. Click To Tweet Instead of e-mail or a page, writing a card can easily personalize the experience and push your relationship with the customer that much further.
Non-profits are a great example. Take the example below. By writing a simple letter to donors, underlining their help, and also adding an invite to a fundraising event. While thank you cards should generally stick to doing one thing, saying thank you, don't be afraid to mix things up a little.


Gamify the customer experience

Gamify can be applied broadly. In this case however, rewarding your clients with bonuses after completing certain actions can be highly effective. With Black Friday coming upon us, you'll undoubtedly begin to receive special time offers that last for a limited time only!
Take for example the monthly box subscription Birchbox below. Sure, the customer has already bought in, but why not upsell them?


Give kudos online

People love to be appreciated. What easier way than to mention them online or in a post? Leverage those social media channels just as Honda did. It doesn't take much, but matter a whole lot to your customers.


Ask for feedback

Honesty is the best policy, and getting feedback from your clients can often be a way of showing them you care about their opinion. At any stage of a company it is important to stay in touch with your customers. What better way to show your appreciation and gain something valuable in return as well.


Present an anniversary gift

Another great reason to celebrate your relationship with your clients can be an anniversary. From welcome e-mails, to content, to anniversary gifts. Make it unique, make it fun, everyone will be better off.
Jet Blue does this well, with a somewhat tongue in cheek husband forgot anniversary e-mail. Remember, this e-mail doesn't have to be a gift, but make sure it is unique (humor is always appreciated).


Show that you remember

Showing that you remember may be weeks, even months after your customer first came to you. Remember in our previous article, A Beginner's Guide to Thank You Marketing, whereby a person receiving a welcome email will read 40% of e-mails for the next 180 days? Let's hope.
Don't be afraid to reach out to those that may have forgotten about you. Warby Parker, does this well, by reminding customers their eye prescription is running out soon and it may be time to get a new pair of glasses. Good timing if we do say so ourselves.


Call a client with the sole purpose of saying thank you

If not in person, if not a personal letter, then the next best thing is to call.

Provide them with personalized content

Checking in on clients doesn't always have to be about up selling them. Have a social media manager? Then share the valuable content you're already posting.
Take for example below. Invision sends out a newsletter offering free-education for designers, interested pieces on design from companies such as Netflix, and best of all, remember about your work-life balance 🙂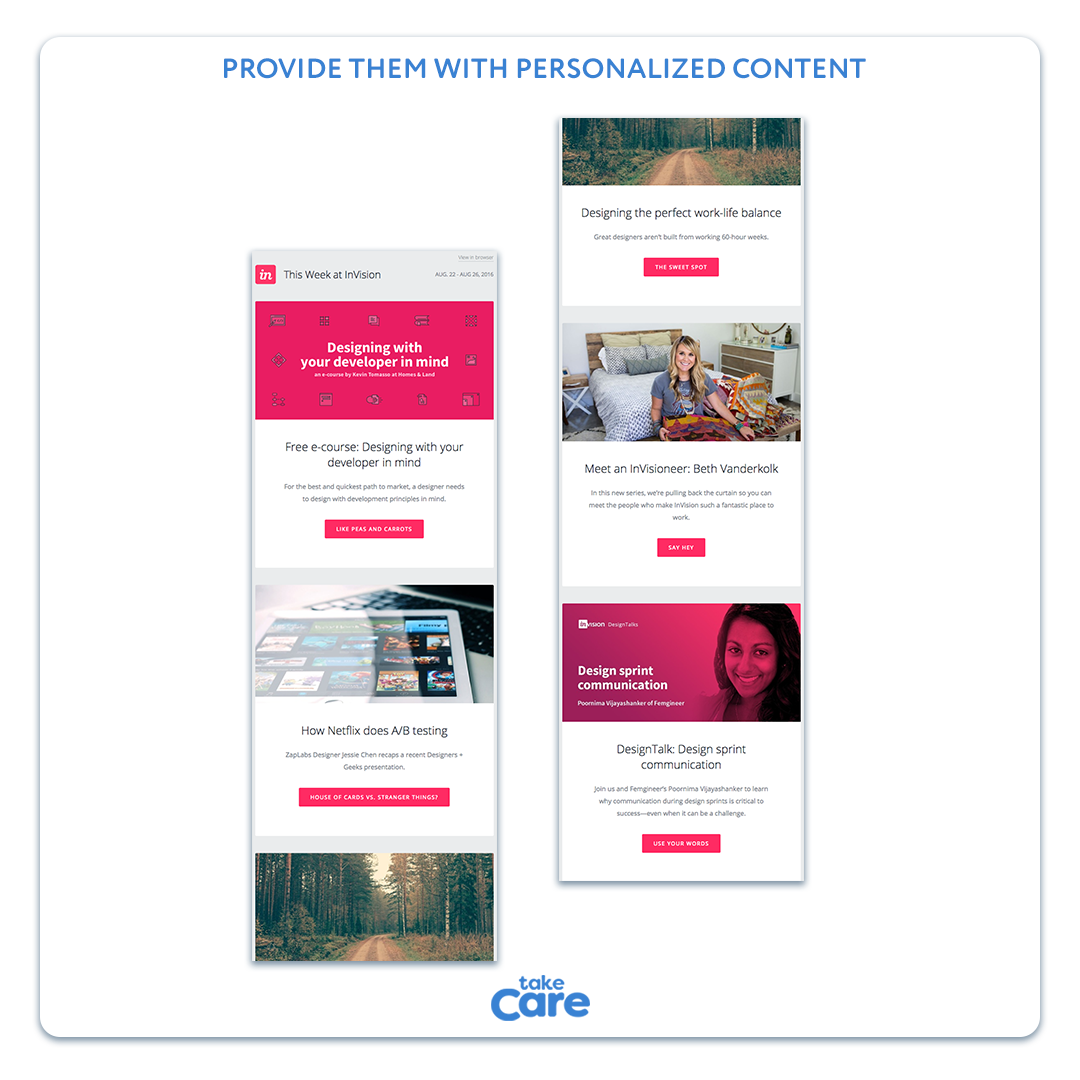 Show a thank you video

Video is the most valuable type of content in any marketer's arsenal. Why not create a short thank you video? Not only can you show your appreciation, but you can reinforce the next action for them to take, such as liking and sharing your Facebook page.
Check out the video below and you will see an example from Gnaw Dog. This company makes hemp products for dogs, but if you watch closely, you will see the video resonantes with it's customers on values of sustainability, as well as urging them to join the "hemp revolution".


Add a gift, any gift when you're sending a package

While this may apply more to B2C companies, why not add a little extra something to your customers package? This is a good way to surprise and delight customer without making them feel they're being upsold. The gift does not have to be expensive.
Take for example Steak Club. By rewarding customers who purchase over $250 worth of steak with Apron, this is a low-cost way of showing your appreciation and bringing a smile to the customers face.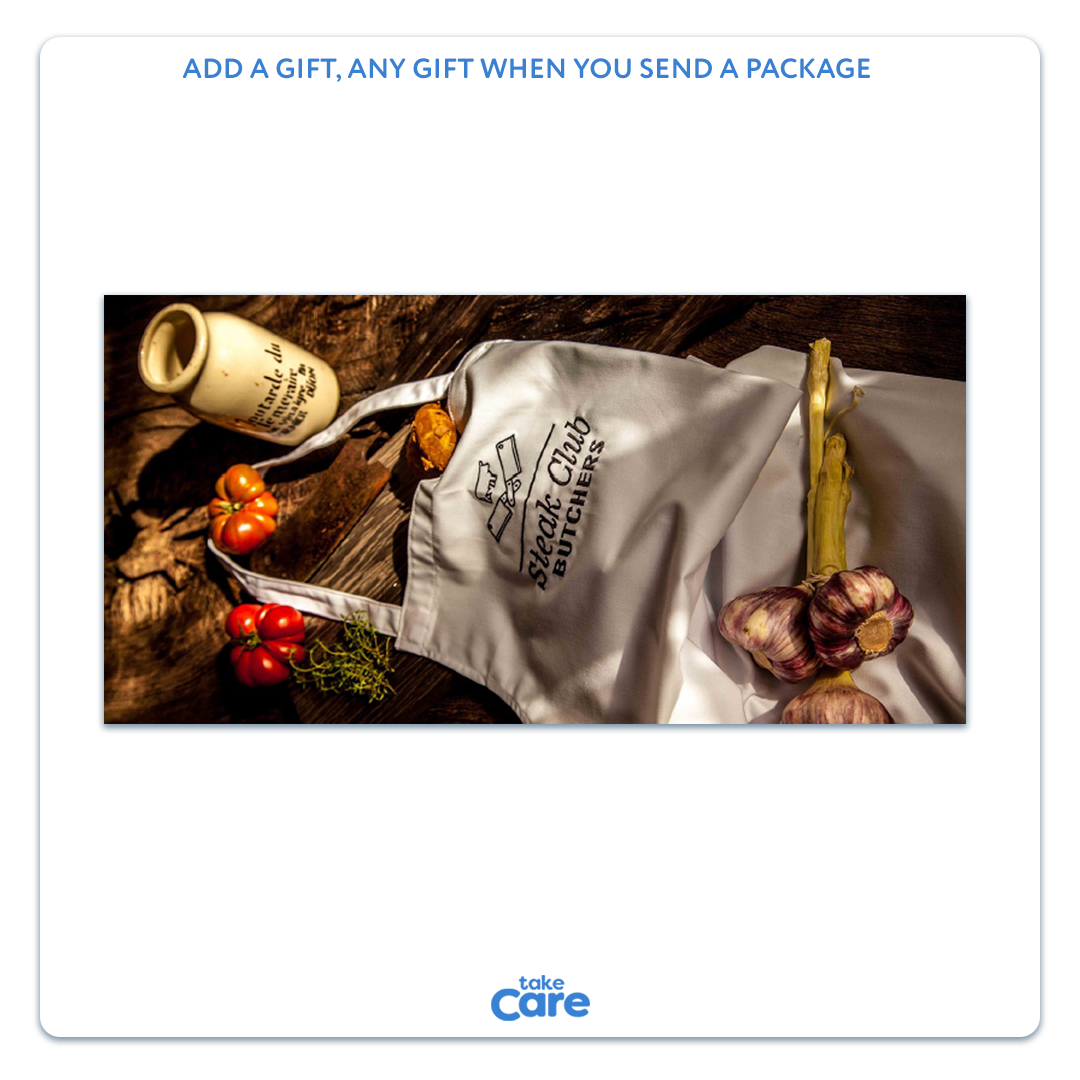 If this article has done anything, it should inspire to begin thinking about what you can provide to your customers. Not sure? Why don't you take option number 4, ask them for feedback, and pull the trigger.
Join us next time where we will be reviewing best practices for Thank You Pages. Let's call this the bread of your thank you marketing strategy. The e-mail will be the butter.